Here's a list of some of the top Christian companies, with a few non-Christian in there as well. Now you know who is and who isn't.
"Anyone who isn't with me opposes me, and anyone who isn't working with me is actually working against me. (JESUS CHRIST – Matthew 12:30)  
Oh and I added in Chick-fil-A.  I'm always looking for cool stories about Christian business and how they made it in the secular world. As Christians I think we should support these business.  They are openly talkiing about Jesus and trying to glorify and honor Him. No their not perfect but their trying.
Now go get a double-double and shake on your way to get that new battery.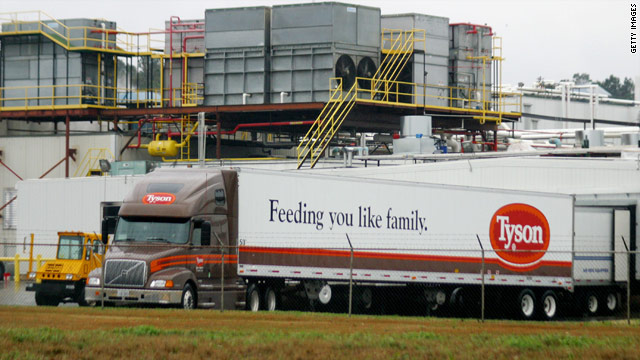 By Dan Gilgoff, CNN Belief Blog Co-Editor

Update Tuesday 10:30 a.m. – After getting more suggestions from readers and experts, I've expanded the list from 7 to 10, with the three additions up top.
Many folks know that Chick-fil-A, which recently kicked up a controversy by giving food to a group opposed to gay marriage, has a proud Christian identity. It's been branded into the memory of anyone who's gone salivating to one of the fast-food chain's stores on a Sunday, only to find its doors locked and the lights out.
But there are plenty of other name-brand companies that have intensely religious sides – even if they're not always visible to consumers.
Here are seven well-known companies that don't make religious products – we're not talking kosher foods manufacturer Manischewitz here – but that nonetheless take their religious sides seriously (listed in no particular order).
1. Forever 21. The young women's clothing company may be best known for its skimpier and saucier offerings, but it also exudes subtle piety. The words John 3:16 – a citation of a biblical verse popular among evangelical Christians – appears at the bottom of its stores' shopping bags. A spokeswoman for the company told The New York Sun that the message is a "demonstration of the owners' faith."
2. Whole Foods. John Mackey, the organic food chain's co-founder and CEO, is a Buddhist who has worked to incorporate the eastern tradition's ideals into his company. "A lot of it has to do with caring for stakeholders and having a wider consciousness that it's not just about profit but about sustainability," says Judi Neal, Director of the Tyson Center for Faith and Spirituality in the Workplace at the University of Arkansas (more about the center below). "It's affected what's being sold in grocery stores around the country."
3. Tom's of Maine. After launching the natural home products company in 1970 with his wife Kate, CEO Tom Chappell nearly left it to pursue full-time Christian ministry. While receiving a master's at Harvard Divinity School, however, a professor advised him to just treat his business as ministry. "He began bringing in different spiritual leaders to talk to the board about how they could use spiritual principles to run the company," says the Tyson Center's Neal. Beyond environmentalism, the company seeks to "create a better world by exchanging our faith, experience, and hope."
4. Tyson Foods, Inc. The world's largest chicken company employs a team of chaplains who minister to employees at production facilities and corporate offices. Other corporations contract out such services, but it's rare for a company to keep chaplains on the payroll.
"The chaplains provide compassionate pastoral care and ministry to team members and their families," according to Tyson's website, "regardless of their religious or spiritual affiliation or beliefs."
Tyson recently gave money to launch the Tyson Center for Faith and Spirituality in the Workplace at the University of Arkansas, one of the first academic centers of its kind.
5. Hobby Lobby. The privately held chain of more than 450 arts and crafts stories isn't shy about its Christian orientation. "Honoring the Lord in all we do by operating the company in a manner consistent with Biblical principles," reads the company's mission statement. "We believe that it is by God's grace and provision that Hobby Lobby has endured."
The company supports a slate of Christian interests, from Oral Roberts University to the conservative Alliance Defense Fund, and is known for taking out overtly religious newspaper ads around the holidays.
6. ServiceMaster. Never heard of this corporation? Perhaps some of the residential services companies it owns, like Terminix and American Home Shield, will ring a bell.
The company was founded in 1929 by Marion E. Wade, who "had a strong personal faith and a desire to honor God in all he did," according to ServiceMaster's website. "Translating this into the marketplace, he viewed each individual employee and customer as being made in God's image – worthy of dignity and respect."
The company, formerly public but recently taken over by a private equity firm, still consciously tries to "do the right thing in the way that employees treat customers," says Theodore Malloch, who leads Yale University's Spiritual Capital Initiative. "It's a theological statement about servant leadership – think of the picture of Christ washing the feet of his disciples."
7. Herman Miller. The Michigan-based furniture manufacturer's founders were steeped in the Reformed Protestant tradition. "It retains a lot of that in practices that revolve around a notion of respecting the dignity of the human person and a strong environmental ethic that grew out of the religious responsibility," says Yale's Malloch. Indeed, Herman Miller – perhaps most famous for its Aeron chair – prides itself on environmental philanthropy and on regularly appearing on Fortune's annual list ofbest companies to work for.
8. Interstate Batteries. The car battery giant has a "self-avowed religious identity and is very open in their God talk" in internal training and communication, says Lake Lambert III, author of Spirituality, Inc. Former company president Norm Miller moved to the role of chairman to allow more time to address Christian audiences. Miller talks to those "interested in how he found the truth of Christianity," the company's website says, "and how he learned to effectively apply biblical principles to create a more successful business." Interstate employs its own chaplain.
9. In-N-Out Burger. Chick-fil-A is hardly the only fast-food outfit to make its founders' religious leanings part of its recipe. Western U.S. burger chain In-N-Out has printed citations of Bible passages on cups, wrappers and other pieces of packaging since at least the late 1980s. For instance, "John 3:16" appears on the bottom of soft drink cups, a reference to the Bible passage, "For God so loved the world, that he gave his only begotten Son, that whosoever believeth in him should not perish, but have everlasting life." Read more on In-N-Out's religious side at Eatocracy, CNN's food blog.
10. Walmart. Treat this one as an honorable mention. Lambert says the Walton family, which founded the company and still own a major stake in it, has used Christian servant leadership models in building the world's largest retailer. And the company's Arkansas roots helped sensitize it to the shopping habits of churchgoers. It helps explain why Walmart long carries the kind of Christian books that were once the exclusive province of Christian bookstores. "You don't find those kinds of things in J.C. Penney," Lambert says. But Walmart has been so successful with such material that it's now become a business threat to Christian booksellers.
Chick-fil-A founder's grandson extols business' Christian principle
The grandson of the founder of the second largest quick-service chicken restaurant in the U.S. says keeping a personal touch has propelled the success of his family's business for more than 60 years.
James Cathy, grandson of Chick-fil-A founder S. Truett Cathy, was the featured speaker at a fundraising event for The Oaks Residents' Assistance Fund program Wednesday morning. The event was held in Orangeburg-Calhoun Technical College's Roquemore Auditorium.
Cathy says while the mind-set that "it's nothing personal; it's just business" may permeate the corporate world, his grandfather's business sense mirrored something entirely different.
"It's really kind of impressive to see how opposite my grandfather has lived his life. It wasn't just business for him," Cathy said.
S. Truett Cathy was born in Eatonton, Ga., in 1921. The 90-year-old, who Cathy says still has a zest for life and serving others, had a keen business sense as early as age 8 when he sold Coca-Colas door to door in his neighborhood. He would take his earnings from that, along with the money from his and his brother Ben's newspaper route, to help put food on his family's table during the Great Depression era.
"He and Ben were very close and kind of business partners. It wasn't just a business for him. It was life-sustaining," Cathy said.
S. Truett Cathy began the Chick-fil-A chain in the Atlanta suburb of Hapeville, Ga., in 1946 with a restaurant called the Dwarf Grill, named for its small size. A new restaurant was eventually opened nearby called the Dwarf House. It was there that Cathy, along with his brother and partner Ben, created the sandwich that later became the signature menu item for Chick-fil-A.
James Cathy said the original restaurant was located across the street from the local Ford plant and his grandfather and great-uncle each worked 12-hour shifts to keep the restaurant open to serve the workers day and night.
"To me, that was more than just a business," he said, noting his grandfather mixed up some of his mother's recipes to create the signature chicken sandwich and kept the preparation to a simple toasted bun with two pickles to be able to serve workers at the Ford plant quicker and more efficiently.
The original restaurant, since renamed Dwarf House, is still in operation. The company operates other Dwarf House locations in the metro Atlanta area.
Cathy said the Chick-fil-A logo, which was a unique take on the business' signature chicken fillet sandwich, was soon trademarked. While the family had promoted its sandwich earlier at various trade shows, they pioneered their first mall restaurant in 1967. The first free-standing Chick-fil-A restaurant was created in 1986. Cathy said the business has thrived because of its friendly, personal atmosphere that makes customers feel they are at a family reunion rather than a business establishment.
"We hope that's the way that it started today here in Orangeburg," Cathy said.
Orangeburg landed its own Chick-fil-A restaurant this year. The chain has more than 1,500 locations in 39 states and Washington, D.C. In 2010, annual sales exceeded $3.5 billion. Chick-fil-A is still privately held and family owned.
Cathy said his uncle Dan is president of the company while his father serves as vice president. His grandfather's love of people is clearly shown beyond the business through his extensive charitable work, he said.
"I think that's what helps keep him young at heart," Cathy said.
S. Truett Cathy and his wife of 63 years, Jeannette, started WinShape Foundation in 1984, a nonprofit organization and charitable foundation with a simple goal: to help shape winners.
Cathy said the foundation includes college and marriage ministries, along with international ministries. WinShape International's goals include equipping young adults to become Christian leaders, developing initiatives that aid poor people in the developing world, impacting the lives of children and youth who are abandoned, orphaned or abused and developing models for overseas partnerships that transform lives and communities, he said.
Cathy said the company's corporate purpose also includes glorifying God by creating a positive influence and being good stewards of what has been entrusted to it.
"Those are our two mantras at Chick-fil-A. Hopefully, you're having a good experience here in Orangeburg," he said.
Orangeburg resident Nancy Wooten was one of many community members who turned out to hear Cathy's message.
"The thing about Chick-fil-A, and what I've always commented on, is how they have their staff always so friendly and nice. I've always wondered about the training program and how they make that happen," Wooten said. "This kind of explains it. That's their philosophy."
"I really didn't know the background of all their efforts. It's something special to find out that they're actually a Christian organization and model themselves after Christ," she added. "It's something really wonderful. You want to support a business like that."
Read more: http://www.thetandd.com/news/article_22213468-cece-11e0-a307-001cc4c002e0.html?utm_source=feedburner&utm_medium=feed&utm_campaign=Feed%3A+delicious%2Fgqlf+%28Christian+Headlines+Top+Headlines%29#ixzz1W9fcLZWb